When you begin to research anything about life insurance Northwestern Mutual undoubtedly appears. Northwestern is like the grandfather of mutual life insurance companies. When considering dividend-paying life insurance products Northwestern Mutual (NML) is one you should look at and compare.
In this article, we provide you with NML's Dividend and the most up to date information to help you decide what company to place your business with. Additionally, we have included past dividend information and links to other articles comparing the top whole life insurance companies
New York Life to pay out $1.9 billion ins 2020. This marks the 166th consecutive year that New Your Life pays a dividend to its policyholders. Additionally, this is the companies 175th year in operation.
Northwestern Mutual Dividend 2020
NML's 2020 is a whopping $6 billion. This $6 billion dividend payout will be distributed to its policyholders. NML stated that "this is expected the lead the insurance industry and be the highest in the companies history." This year's announcement of $6 billion is an increase from last year's dividend of $5.6 billion.
Northwestern Mutual Dividend in rate is expected to hold at 5%.
How Northwestern Mutual Calculates its Dividend?
Here is the explanation directly from the source on how NML calculates its dividend.
Northwestern Mutual Dividend History
2020 Dividend Rate 5.0%
2019 Dividend Rate 5.0%
2018 Dividend Rate 4.9%
2017 Dividend Rate 5.0%
To compare Northwestern Mutual dividend to the competition read: Whole Life Dividend Rate History.
Even-though the dividend rate probably will remain low, Northwestern Mutual is still very a strong financially:
To read our review for their whole life see Northwestern Mutual review.
Compare the Dividend
Here we have the table that will help you compare the dividend: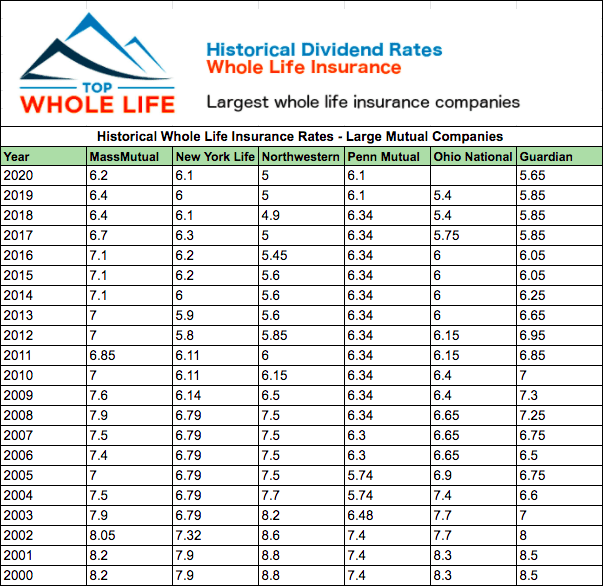 If you would like to get a quote with a high performing whole life insurance, do not hesitate to contact us.
Other Announcements
Here is a list of the other whole life providers and their announcements. As the numbers come in, we will update the links:
You can also check out to see if Northwestern Mutual made the list of the: Top 7 Whole Life Companies