There are several strong whole life insurance companies to consider when buying life insurance. One key metric you should know is what the company's dividend is and its history. In this article, we provide you with New York Life Dividend and the most up to date information to help you decide what company to place your business with.
New York Life Dividend 2021
New York Life announced their 2021 total dividend payout. The total payout is $1.8 billion. This is the 167 consecutive year with a dividend payout.
2021 Dividend Rate
We still do not have a the exact dividend rate, but it is safe to say that the dividend will decrease from 2020.
As soon as we have the driving dividend we will update. For the full report you can visit here.
In addition you can compare previous years below.
New York Life Dividend 2020
New York Life to pay out $1.9 billion in dividends in 2020. This marks the 166th consecutive year that New Your Life pays a dividend to its policyholders. Additionally, this is the companies 175th year in operation.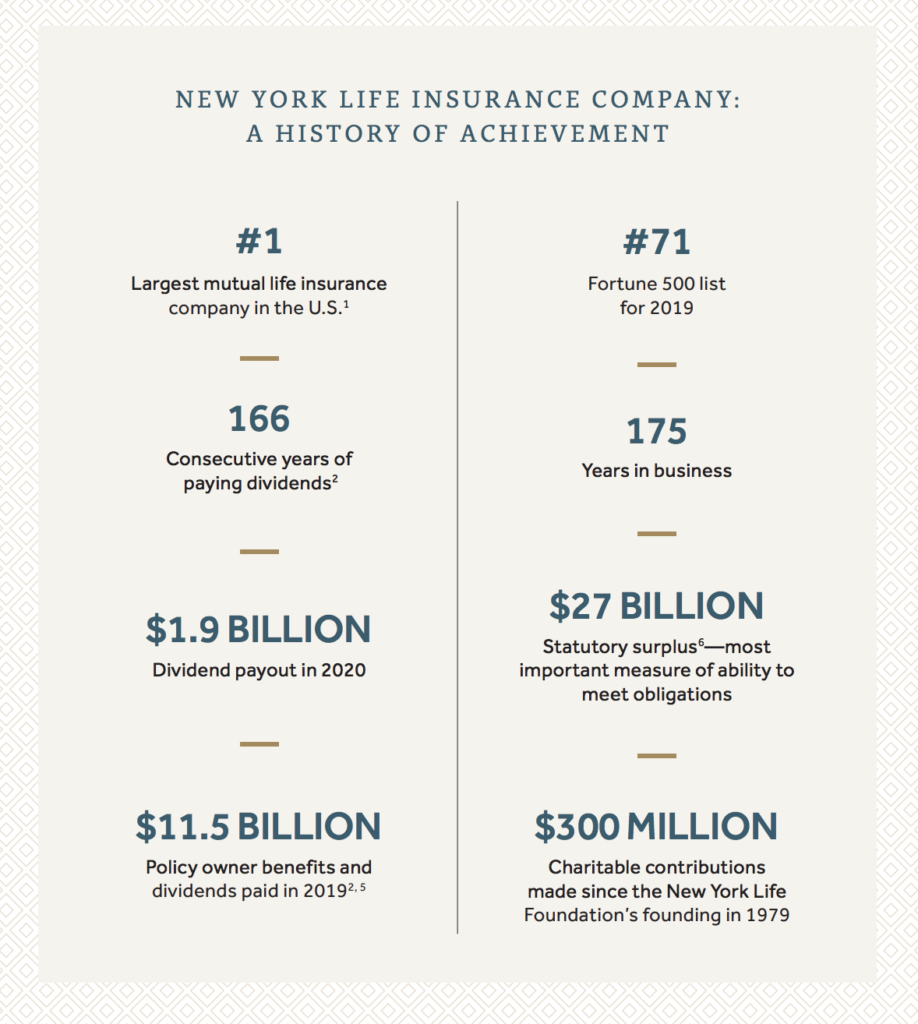 2020 Dividend Rate of 6.1%
In an insurance industry that mostly had a slight decline in dividend rates, NYL has gone up to 6 .1% in 2020 from 6.0 in 2019.
Learn more about the companies performance here
Also, check out Top Whole Life's Review of New York Life
New York Life 2019 Dividend
NYL announced today that they will give an estimated $1.8 billion 2019 dividend payout.
This is the 165th consecutive dividend paid by the company.
Read the full news wire here.
2019 Dividend Rate of 6.0%
The dividend rate has been announced, and it is disappointing.
New York Life's 2019 dividend is 6.0%.
If you want to compare New York Life to the competition read: Whole Life Dividend Rate History.
Even-though the dividend drops, NYL is still one of the strongest insurance companies financially:
Ranked #69 in Forbes 500 list
One of the largest mutual insurers in the U.S.
To read our review for their whole life sees New York Life review.
Comparing to New York Life 2018 Dividend & Other Years
The numbers for 2018 were the following:
$1.78 billion in dividends to its policyholders in 2018
The dividend rate in 2018 was 6.2%
2017 dividend was of 6.2%
This 2019 dividend announcement maintains NYL as one of the leaders. To compare some of the competition check out: Penn Mutual, MassMutual, and New York Life.